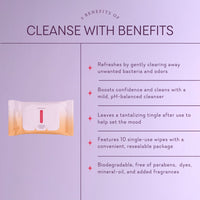 Date night's best friend—with benefits! Slip these pH-balanced cleansing wipes in your bag so you're always ready for mind-blowing pleasure, no matter where the day (or night!) may take you. Formulated to keep you feeling fresh, these wipes also have a sexy little secret: they're infused with ingredients that leave behind a tantalizing tingle on your most intimate areas.
Features

● Formulated with a mild cleanser to help keep you feeling fresh ● Helps wipe away unwanted bacteria and unpleasant odors ● Infused with ingredients that leaves a tingling sensation after use ● Moisturizing aloe vera is known to be an anti-inflammatory that helps soothe skin ● Convenient, resealable package for easy storage in your purse or bag ● pH balanced and biodegradable, free of parabens, dyes, mineral-oil, added fragrances, and harsh chemicals. ● 10 single-use wipes per packet
Directions

Remove cloth from packet, unfold, and gently wipe from front to back. Use only once, then throw away. Flushing is not recommended. WARNING: FLUSHING IS NOT RECOMMENDED. DISPOSE OF USED WIPES IN TRASH. FOR EXTERNAL USE ONLY. IF IRRITATION OCCURS, WIPE OFF PRODUCT WITH SOFT TISSUE OR CLOTH AND ALLOW SENSATION TO SUBSIDE. IF IRRITATION PERSISTS, CONSULT A PHYSICIAN. AVOID EYE AREA. IF EYE CONTACT OCCURS, RINSE WITH WATER. KEEP OUT OF REACH OF CHILDREN. INTENDED FOR ADULT USE ONLY. DO NOT USE IF YOU HAVE A KNOWN HYPERSENSITIVITY (ALLERGY) TO ANY OF THE INGREDIENTS. DO NOT USE THIS PRODUCT IF YOU ARE ALLERGIC TO ASPIRIN, PREGNANT OR NURSING, USE PRESCRIBED BLOOD THINNERS, OR HAVE AN STD. NOT TESTED ON ANIMALS. MADE IN THE USA.